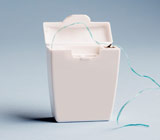 The most important thing you can do for your dental health is to develop a daily habit of removing plaque, the bacterial film that builds up on your teeth and the leading cause of tooth decay and gum disease. You know you need to do better — but as with other daily habits that require discipline, it can be a challenge.
One way to make it easier is to develop a plan — a step-by-step process you can use to keep your hygiene habits on track. Here's a suggested template for such a plan.
Step 1: Partner with us for hygiene training. As with other habits, going at it alone can be daunting. As your dental office, we have the knowledge and experience to advise you on the right toothbrush, toothpaste, floss and other products to use, and to train you on the best techniques for brushing and flossing.
Step 2: Develop an evaluation system. It helps to know if your hygiene efforts are effective. You can evaluate for yourself how well you're doing by running your tongue across your teeth (does it feel smooth?), rubbing floss against the sides of your teeth (does it make a squeaky sound?), or looking for signs of bleeding or bad odor. We can also perform tests, such as using disclosing solution dyes to reveal plaque or regular dental exams to identify any indications of disease or decay.
Step 3: Maintain the change in your behavior. The biggest obstacle for sticking with a new habit is discouragement — if you don't eventually see progress you can easily give up. Our regular interaction with you and your own evaluations will provide valuable insight as to how you're progressing. These tangible indications build confidence and help you cement your new habit into place.
Every new habit starts with a burst of enthusiasm. To become permanent, however, it must continue on once the "newness" wears off. By developing a plan like the one described above, you'll be more apt to continue practicing your new hygiene habit until it becomes a permanent part of your daily life. The dividends can be healthy teeth and gums for a lifetime.
If you would like more information on an oral hygiene plan, please contact us or schedule an appointment for a consultation. You can also learn more about this topic by reading the Dear Doctor magazine article "Oral Hygiene Behavior."